90 - Balkan Burek Bike Tour : un peu de tourisme
Compliqué de résumer ce périple de 1000 bornes ...
Mais le visionnage des nombreux instants fuji devrait vous convaincre de la beauté dans sa diversité des coins traversés...
Voir les albums photos :
Ci après un petit condensé, genre rubrique un peu paris match avec le choc des photos, et le poids des mots piqués dans le lonely planet "western Balkans", qui m'aura été assez utile...
Torino / Turin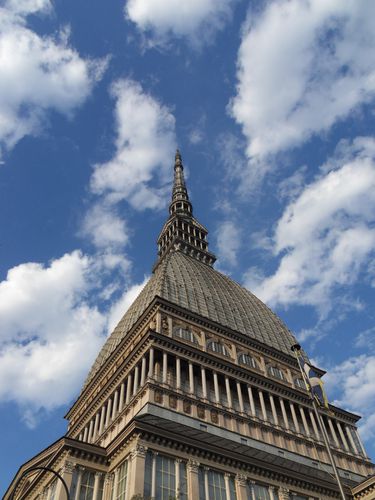 Trieste / Trst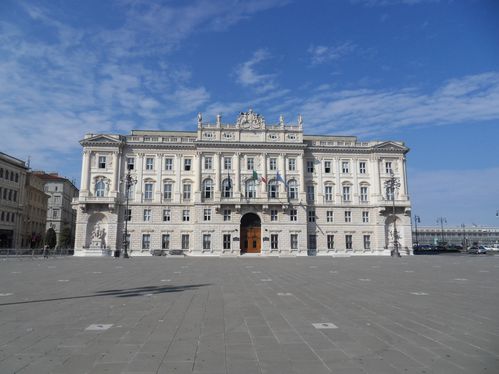 Ljubljana
Pour plus d'info sur Ljubljana, allez voir là :-)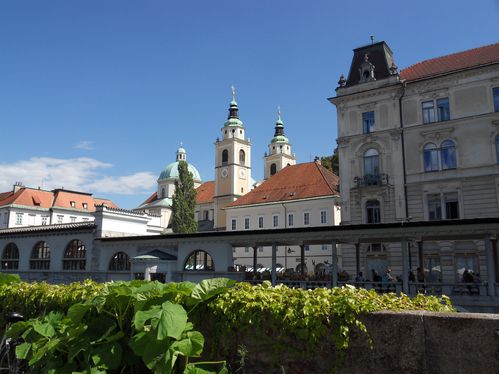 Zagreb
Visually, Zagreb is a mixture of straight laced Austro-Hungarian architecture and rough aourn the edges socialist structures. Its character is a sometimes uneasy combination of the same two elements : try as they may, the frequenters of Zagreb's elegant galleries, high class restaurants and alternative art and music venues cannot quite ignore the vast turbo folk crowds, attesting to the city's lasting struggle between perceived central european sophistication and Balkan « savagery »… p 180
…
Gothic St Mark's CChurch marks the centre of Gradec. Inside are works by Ivan Meštrovic, Croatia's most famous modern sculptor. On the eastern side of St Mark's is Croatia's 1908 National Assembly (Sabor). p 185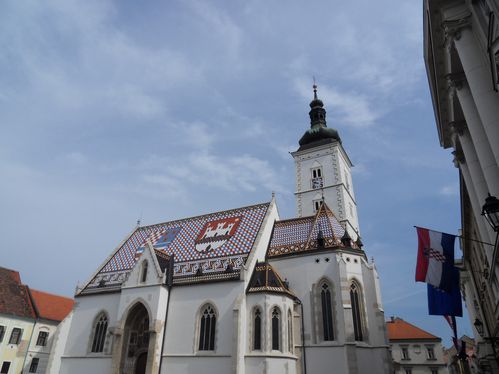 Samobor
Samobor is the zagrebian's version of the Hamptons for New Yorkers, only it doesn't have a beach and it's much smaller. Ok we may be stretching the comparison, but this is were the stressed out city dwellers come to wind down and get their fix of hearty food, creamy cakes and pretty scenery. A shallow stream stocked with trout curves through a town centre that is composed of trim pasted houses and several old churches, while the verdant woods of Samobosko Gorje are perfect for hiking. p 192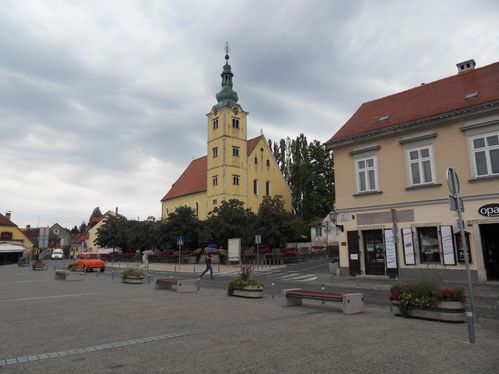 Split
The old town is a vast open air museum and the new information signs at the important sights explain a great deal of Split's history. Diocletian's palace facing the harbour is one of the most imposing Roman ruins in existence. I twas built as a strong rectangular fortress, with walls measuring 215 m from east to west, 181 m wide at the southernmost point and reinforced by square corner towers…
Don't expect a palace, through or a museum, this is the living heart of the city, an dits often ragged labyrinthine streets are packed with people (locals and tourists), bars, shops and restaurants.
The narrow streets hide passageways and courtyards, some deserted and eerie, others thumpting with music from bars and cafes, while the residents hang their washing to dry overhead, kids play football amid the ancient walls, and grannies sit in their windows watching the action below.
It's an enchanting place. p 228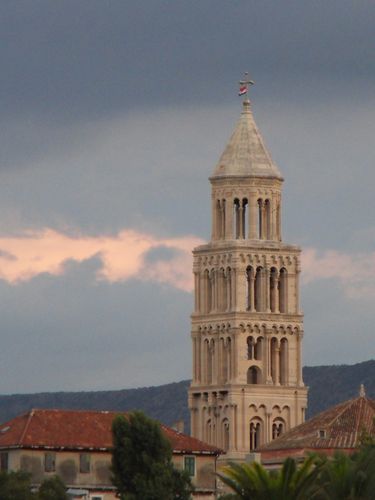 šolta
Solta is a kind of magic, et pourtant, rien dans le guide touristique, mais encore je n'ai pas pu m'empécher d'y retourner... Allez voir là pour savoir pourquoi :

http://intothebalkans.over-blog.com/article-21486152.html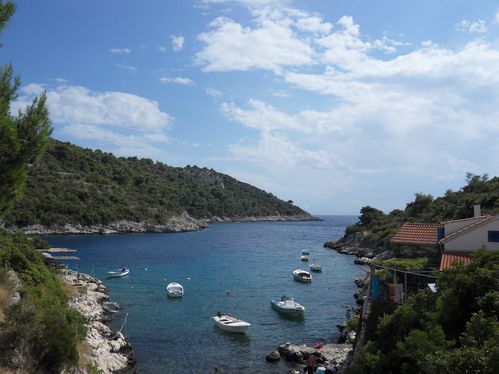 Dubrovnik
No matter whether you are visiting Dubrovnik for the first time or if you're returning again and again to this marvellous city, the sense of awe and beauty when you set eyes on the Stradun never fades.
It's hard to imagine anyone, even the city's inhabitants, becoming inured to its marble streets and baroque buildings, or failing to be inspired by a walk along the ancient city walls that once protected a civilised, sophisticated republic for five centuries and that now look out onto the endless shimmer of the peaceful Adriatic. p 244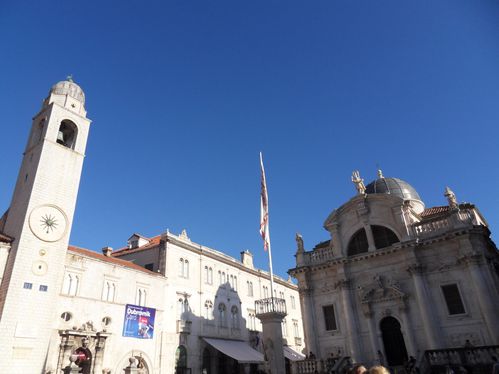 Trebinje
Leafy squares, a charming little old town and a unique Ottoman-era bridge make Trebinje a beguiling quick stop between Dubrovnik (28km) and Mostar or Višegrad.
But don't expect snooty Dubrovnik citizens to encourage the trip. Remembering the 1990s conflict, some coastal Croatians imagine Trebinje to be a nest of murderers.
In fact Trebinje's greatest charm lies in residents' disarmingly umpretentious friendliness, making it a great place to hear Serb viewpoints on recent history. p 143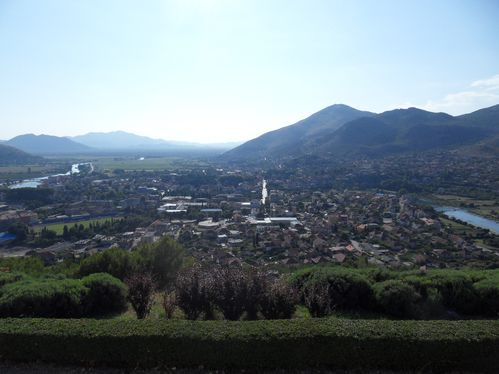 Ostrog
Resting in a cliff face 900 m above the Zeta valley, the gleaming white Ostrog Monastery is the most important site in Montenegro for Orthodox christians.
Even with its masses of pilgrims, tourists and trashy souvenir stands, it's a strangely affecting place. p 364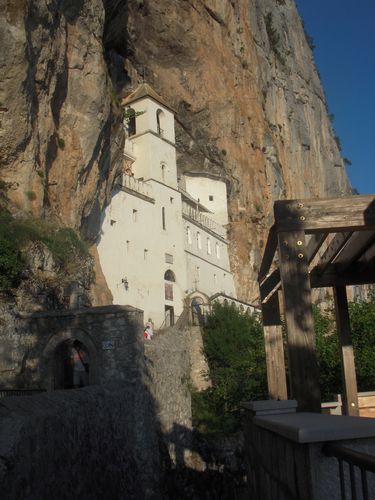 Cetinje
Rising fom a green vale surronded by rough, grey mountains, Cetinje is an odd mix of former capital and overgrown village where single-storey cottages and stately mansions share the same streets. Several of those manions – dating from times when European ambassadors rubbed shoulders with Montenegrin princesses – have become museums or schools for art and music. p 358 .
(former french embassy)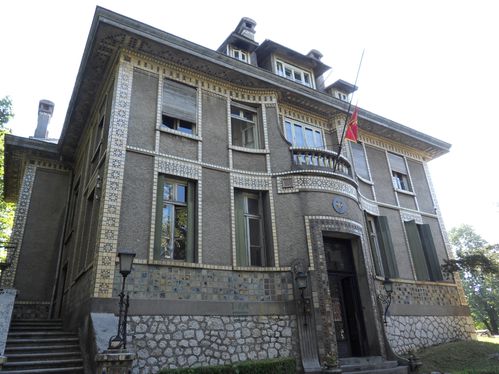 Lovcen and the national Park of Lovcen
Directly behind Kotor is Mt Lovcen (1749 m) the Black Mountain that gave Crna Gora and Montenegro its name. This locale occupies a special place in their hearts of all Montenegrins. For most of its history it represented the entire nation – a rocky island of Slavic resistance in an Ottoman sea.
…
The national Park's 620 hectares are home to 85 species of butterflies, 200 species of birds and mammals including brown bears and wolves.
…
Lovcen's star attraction is the magnificient Njegoš mausoleum at the top of the Jeserski Vrh (1657 m). p 358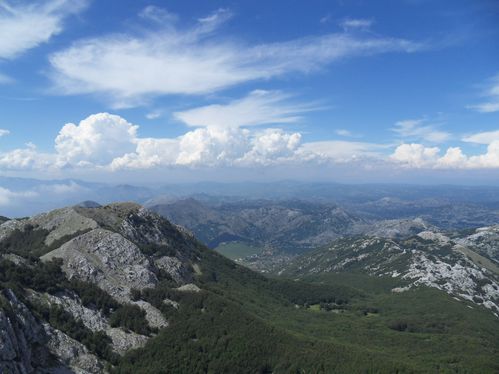 Kotor
Those prone to operatic outbursts may find themselves launching into Wagner at their frist glimpse of this dramatically beatuiful town, wedeged between brooding mountains and a moody corner of the bay. Its strudy walls – started in the 9th century and tweaked until the 18th – arch steeply up the slopes behind it.
From a distance they're barely discernable from the mountain's grey hide but at night they're spectacularly lit, reflecting in the water to give the town a golden halo. p 345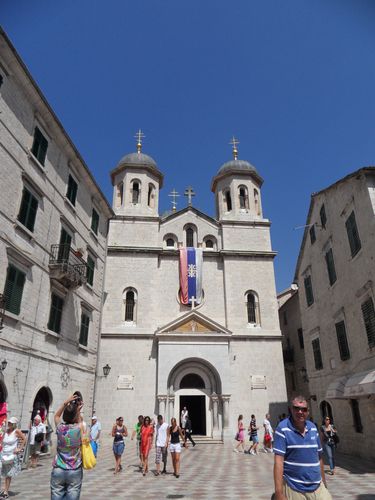 Budva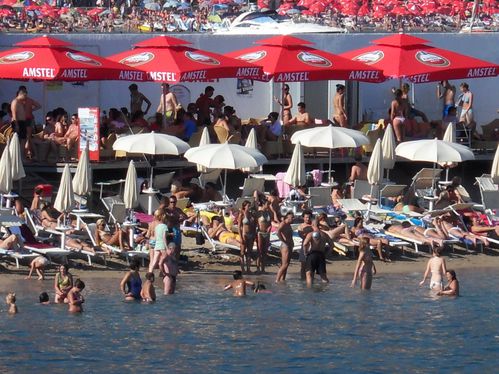 Sveti Stefan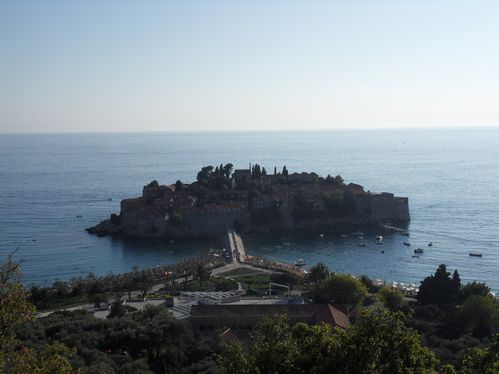 Tirana
Lively, colourful Tirana has changed beyond belief in the last decade from the dull, grey city it once was. It's amazing what a lick of paint can do – covering one ugly tower block with horizontal orange and red stripes, another with concentric pink and purple circles and planting perspective cubes on its neighbour.
…
The city's grand central boulevards are lined with fascinating relics of its Ottoman, Italian, and communist past – from delicate minarets to socialist murals – guarded by bored-looking soldiers with serious automatic weaponry. The traffic does daily battle with both itself and pedestrains in a constant scene of unmitigated chaos.
Loud, crazy, colourful, dusty – Tirana is simply fascinating. p 62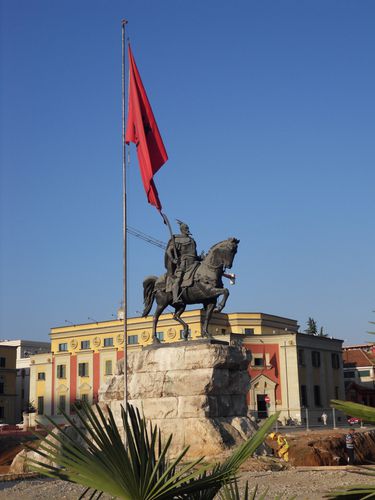 Les hauts de Elbasan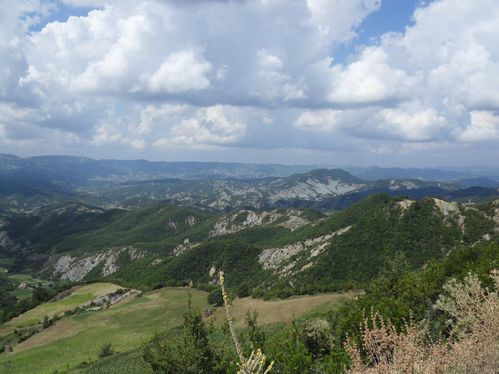 Lac d'Ohrid
At 300 m deep and three million years old, this lake, shared by Macedonia (2 thirds) and Albania is one of Europe's very deepest and most ancient.
Usually Ohrid is calm but during storms its steely-grey whitecaps evoke the sea. p 301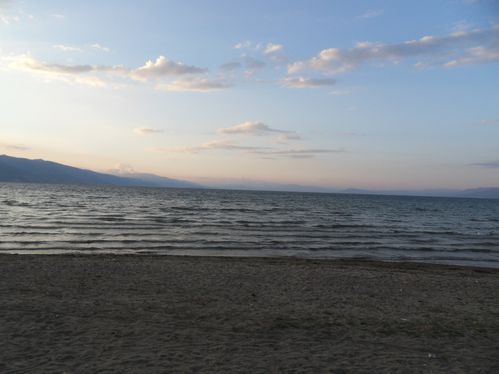 Sveti Naum
Splendid Sveti Naum Monastery lies just before the Albania border. Built by Naum, a contemporary of Sveti Kliment's, the monastery became a leading educationnal centre. Naum built the church of the Holy Archangels (900) replaced byt the 16th century Church of Sveti Naum, this mutlidomed, Byzantine-style strucutre, surronded by roses and peacocks and set on grassy clifftop, boasts fine 16th and 19 th frescos. p 307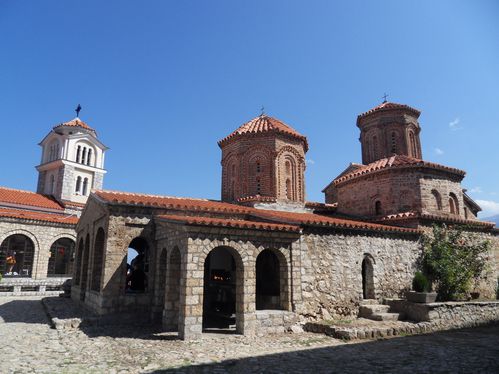 Ohrid
If you haven't seen Ohrid, you haven't seen Macedonia – it's as simple as that. The country's most popular destination boasts an atmospheric old town with beautiful churches stacked up a gracefull hill, all topped by a medieval castle overlooking serene, 32 km-long lake Ohrid. Nearby, mountainous Galicica National Park offers pristine nature, while secluded beaches dot the lake's lush coast. p301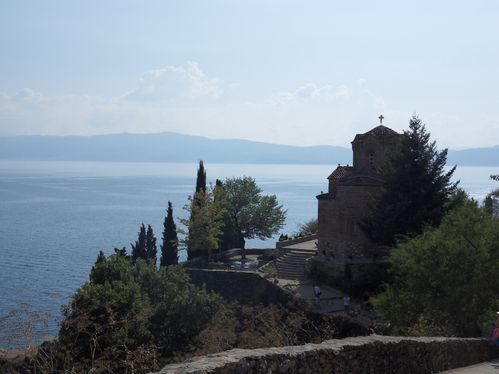 Skopje
Don't let the drab Yugoslav era architecture fool you - Skopje's a lively town, and one with more to it than meets the eye. ...
While much of what makes Skopje tick will be lost on the first-time visitor, there's also much to enjoy. Crossing the Vardar River on the 15th century Stone Bridge (Kamen Most) leads into the Carsija (old turkish bazaar) with its enduring Ottoman attractions.... p 289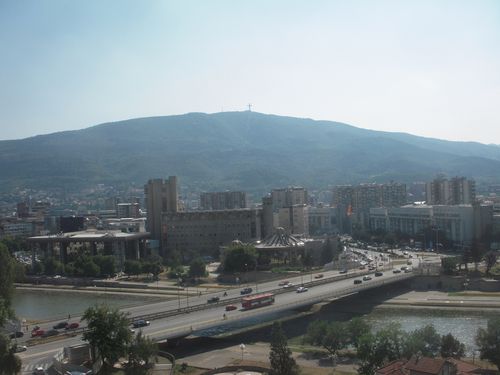 Niš
Niš is a lively city of curious contrasts : horsedrawn carriages trot alongside new cars, cocktails are sipped in cobblestone alleys, and traditional Serbian fare is served in an old Turkish hamam.
Niš hs had a grim history but makes the best of its old sites these days.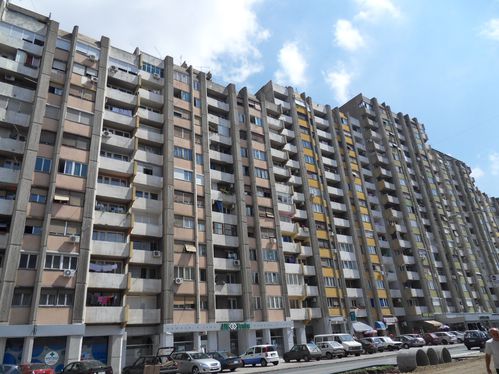 Kopaonik
Serbia's prime ski resort is great for people who want a ski holiday without glamour and prices to match. Kopaonik is situated around the Pancicev Peak (Pancicev Vrh 2017 m) overlooking Kosovo.
It's a pleasant base for hiking and, with your own wheels, an adventurous base for monastery bluffs. p 413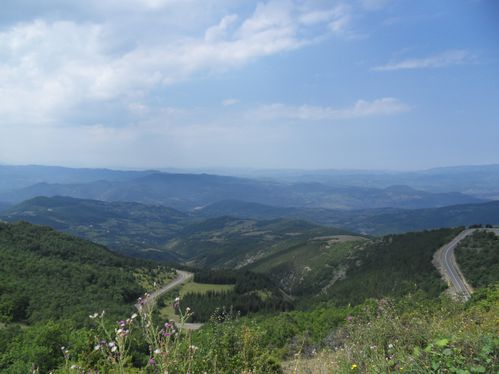 Kosovo
Kosovo doesn't leap to mind as a travel destination : it has the weakest economy in Europe, half of the population is unemployed, and the innards of buildings stripped to their skeletons still lie strewn across smashed-up sidewalks. ...
Kosovo is a complicated country, but interesting places are rarely simple. p 269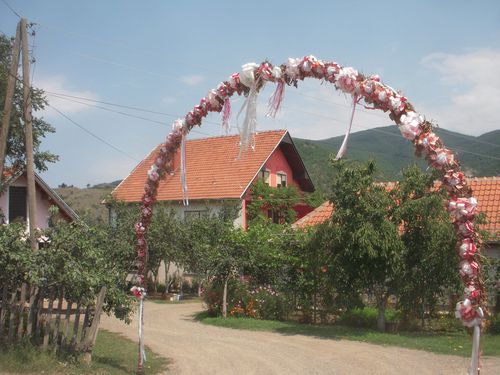 Eglise de St Pierre/ Petrova Crkva
Three kilometers from the town on a bluff on the kraljevo road, the small, stone Church of St Peter is the oldest in Serbia and the only pre-Nemanjic church ; parts date to the 8th century. In the late 1950s the ancient cemetery around the church was discovered to hold the grave of a 5th century Illyrian prince.
Inside the rough masonry, a step-down baptismal well and feet-polished flagstones provide a tangible sense of the ancien. The 13th century frescos are incomplete due to damage. If the church is locked, as kat the nearby house to be let in. p 411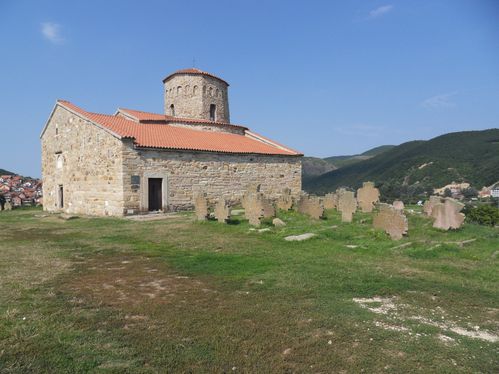 Novi Pazar
Novi Pazar – the cultural heartland of the Sandžak region – is a gateway and warm-up to Kosovo. However, it's a mistake to compare the islamic heritage of this region with that of its neighbour ; southern Serbia's muslims are Slavs who converted to Islam. Here the locals don't even try to pretend hat the Turkish coffee is Serbian.
The fact that the Turks weren't ousted from here until 1912 has left an indelible mark on the town's character ; even today Turkish is widely spoken… p 410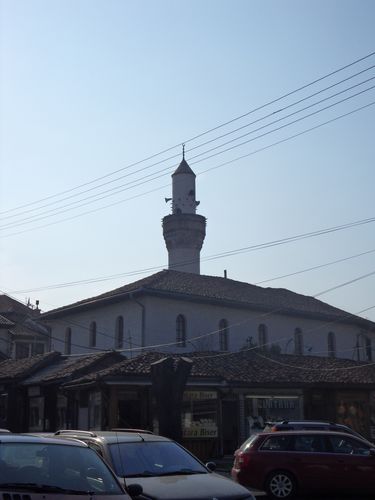 Sopocani
Nestling in one of the most beautiful settings in Serbia, Sopocani monastery is a Unesco protected treat. Built by King Uroš (who is buried here) in the mid 13th-century, i twas destroyed by the Turks at the end of the 17th century and only restored in the 1920s, the dome replaced in 1929. The church is Romanesque in external appearence, and frescos within are prime examples of European medieval art.
They also miraculously (or perhaps divinely) survived more than two centuries exposed to the elements. The black on the walls is said to be glue that once held gold leaf. … Ask to be pointed to the portrait of St Philippus « the Mona Lisa of Serbia » for his mysterious following eyes. The assumption of the Mother of God fresco is one of the most renowned. p 410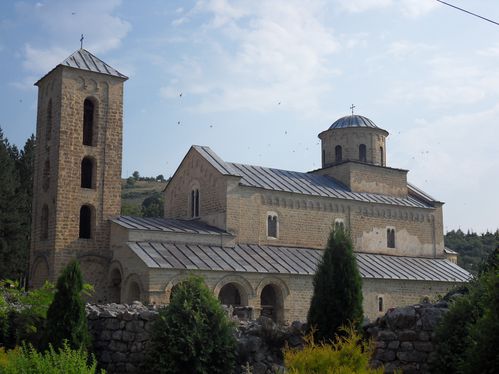 Studenica
One of the most sacred abd beautiful sites in Serbia, Studenica is nestled in mountainous forest alongise the Studenica River. The monastery was established int hte 1190s by Stefan Nemanja and further developped by his sons Vukan and Stefan, who are entombed here. Active monastic life was cultivated by much-revered St Sava and continues today. There are three churches within the impressive oval monastery walls. Bogorodicina crkva, Kraljeva Crkva, Crkva Svetog Nikole. p 413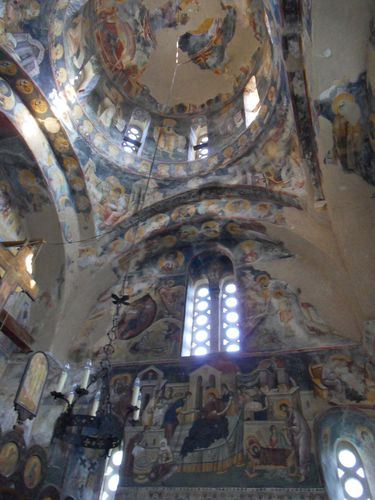 Guca
Trumpet town. Every August the otherwise indistinct town of Guca blasts to life with the Dragecevo Trumpet Festival (dragacevski sabor trubaca).
Since 1961, performers have descended on Guca with trumpets, trombones, tubas... anything with a brassy sheen that makes some noise. p 414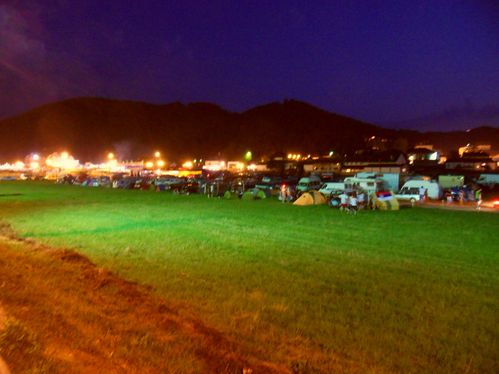 Partager cet article